A Roadmap for the Journey: A Course in Miracles – Online
with Bharata Wingham, E-RYT 200, CLYT
November 26 - 27, 2022
Set off on a journey—a journey without distance—and explore the timeless teachings of A Course in Miracles during this online workshop.
A Course in Miracles teaches that we are in a dream within a dream: we are dreamers dreaming that we are in a fearful, unfamiliar land, and our function within the dream is to awaken from every level of dreaming and get back to the home of love. A Course in Miracles offers a clear step-by-step plan to help us escape all fearful dreams.
This workshop will look at some of the major steps in our journey of awakening and provide instruction on using the primary tool of forgiveness to take us back home. By the end of the weekend, we will have the overall map and several key tools that we will need to embark upon a journey without distance.
One of the aims of A Course in Miracles is to help us save time on the journey. So, like the Course itself, we will begin at the end, and end at the beginning.
We will learn about the Golden Rule upleveled to the Platinum Rule, the 3-Step Forgiveness Process, and why forgiveness is crucial to our return home.
We will also explore what the Course means by:
True vs. false forgiveness
The script is written
Forgiveness is the key to happiness
The real world is right behind the false world
A happy dream is our birthright
The ego and world
Whether the Course is new to you or you have journeyed far already along the path of awakening, this program promises to save you time and energy on your trip back home. This weekend will be a deeper exploration into and practice of the timeless teachings of A Course in Miracles.
Live sessions with Bharata on Saturday at 10–11:30 am, 2–3:30 pm, and Sunday at 10–11:30 am ET.
You will have access to the video recordings for 8 weeks after the program ends, until January 22, 2023.
In addition, you will have access to recorded Integral Hatha Yoga classes, meditations, and inspiring talks with Swami Satchidananda. You will also have access to an online social community to connect and communicate with other participants about this course.
Continuing Education (CE) Opportunities
Testimonials
Bharata was very good and was especially attentive to those who seemed to be struggling with the content. I really liked that he didn't push anything and allowed the flow of conversation while keeping to teaching the subject. The concepts of The Course In Miracles can be difficult to articulate, but Bharata has embodied them so well that they are clear and easy to grasp. For me, there were several moments of illumination as my mind grasped and understood the material. Bharata has the gift of joy and knowledge along with wisdom that defines a good teacher. — Angela V.

Authentic, clear message, complex material presented in a digestible and enjoyable way. The course gave me hope that there is a way to come out of the box /the mind. — Neli Ramirez

ACIM concepts were explained with remarkable simplicity in a short program like this. Time flew by too fast, which is usually an indication of how absorbed we were in this program. Bharata displayed patience, levity, grace, and an ability to promote curiosity and application of principles. I want to thank Bharata for this amazing experience, for the gift of this weekend. It was an amazing weekend. — Sam Desai
Presenter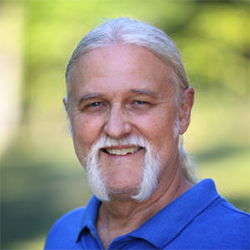 Bharata Wingham, E-RYT 200, CLYT
Bharata Wingham, E-RYT 200, CLYT, is a longtime student of A Course in Miracles, having studied and worked with it daily since 1980. For thirteen years, he produced and hosted a television program, A Course in Miracles Study Group, which was distributed in the US and abroad. While conducting numerous programs and workshops, he authored the book, An Ancient New Idea: A Primer on A Course in Miracles. He is also the author of Laugha Yoga: Combining the Joy of Laughter with the Bliss of Yoga. A Laughter Ambassador, he has trained hundreds of Laugha Yoga Leaders and led thousands…
Learn more about Bharata Wingham, E-RYT 200, CLYT