Trauma-Conscious Yoga Training
with Pamela Stokes Eggleston, MBA, E-RYT 500, YACEP and Amina Naru, E-RYT, YACEP
October 4 - 8, 2023
Modern studio spaces and Yoga practices can trigger those who have experienced trauma in their lives. While the Western lens of Yoga is asana-based, focuses on performance, and promotes the Yoga industrial complex, this approach to trauma-conscious Yoga is steeped in cultural sensitivity, compassion, and knowledge of the nervous system and brain as they relate to trauma. It is important for anyone who is offering yogic practices as a teacher and/or business to be conscious of the entire spectrum of trauma in order to create a space for reduction of harm and re-traumatization, balanced with healing and transformation.
The Trauma-Conscious Yoga Training is designed to provide Yoga teachers with the skills to share Yoga with first responders, veterans, trauma survivors, those affected by PTSD and traumatic stress, as well as caregivers and service providers. This training is distinct from other trauma trainings in that it is taught and led by two African American women who are Yoga teachers with various traumatic experiences—gender-based, racialized, sexual, historic, and intergenerational trauma—that they lean on to inform their contemplative practices and the foundation of knowledge they draw from to instruct teachers and other practitioners. In addition to this expansion of the definition of trauma, the Trauma-Conscious Yoga Training covers material related to veterans groups, incarcerated populations, and other groups normally thought of in the context of trauma training.
We will also cover trauma through the lens of social justice; how it affects the body, nervous system, brain, and spirit; toxic masculinity and femininity, patriarchy, and colonialism; self-care and community care; and seva (selfless service) in community. These are important considerations as we navigate the transitions in the world since the coronavirus pandemic (economic, social, racial) and the severe disruption and dislocation that we have experienced collectively. This collective dislocation is a significant shared traumatic experience that we as teachers and a Yoga community must be mindful of and in service to alleviating.
Upon completion, you will be able to:
Create compassionate, safe, and sacred spaces for those affected by trauma
Reflect upon their own trauma and triggers in a deep, substantive way
Consider how trauma-conscious Yoga can be scaled and adapted to inform teaching, therapy, and personal practice
Develop meaningful partnerships within communities of service
The Trauma-Conscious Yoga Training will use Hatha Yoga, Restorative Yoga, pranayama (breathing practices), and meditation techniques to help students excavate and discover a deeper understanding of self in relation to the yamas and niyamas (ethical guidelines). This experiential training will provide the framework for an embodied practice that can be taught in a wide range of traumatized communities and can serve as an essential toolkit for Yoga teachers. It is intended for all people willing to learn how to reduce harm, to compassionately confront their own samskaras (mental impressions) that have inadvertently created harm, and broaden their awareness and definition of trauma (individually and collectively). It will prepare you as a teacher to be more responsive to the needs of a broader audience, expand your toolkit of types and techniques to address trauma, and heal yourself in the process
Training Information
This training includes 5 modules:
1. The Social Justice Lens
2. How Trauma Affects the Body and Brain
3. Toxic Femininity, Masculinity, Colonialism, Patriarchy
4. The Importance of Self-Care to Community Care
5. Applicability of Service in Community
Prerequisites
200-hour Yoga certification. Those who have a regular and well-established Yoga practice can also apply. This training is for anyone who is teaching or interested in teaching Yoga to people and communities who have experienced trauma.
Continuing Education (CE) Opportunities
Testimonials
Pamela is a most knowledgeable and sincere presenter. Her course is a blend of science, Yoga, and real life. — Sabrina Castaneda

This training was a blessing to my clients, as well as to myself. The thoughtful ways in which the instructors were able to unpack and address our questions, and the sensitive way that they managed to both inform and allow open dialogue was a beautiful thing to be a part of. I learned so much, and really had a transformative experience. — Past Participant

This class far exceeded my expectations including the material presented, class participation. The most amazing part of the class was the trainers. Their knowledge and ability to worked together and deliver the appropriate knowledge made for a most meaningful experience. — Past Participant
Presenters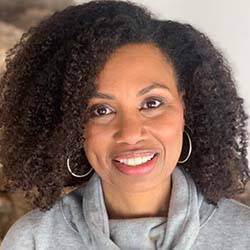 Pamela Stokes Eggleston, MBA, E-RYT 500, YACEP
Pamela is the founder and director of Yoga2Sleep, co-founder of Retreat to Spirit, and adjunct professor/Yoga Therapy clinic supervisor at Maryland University of Integrative Health. She is a certified yoga therapist and meditation teacher with specialized certifications in plant-based nutrition, cognitive behavioral therapy for insomnia (CBT-I), and trauma-informed Yoga to work with service members, veterans, their caregivers, and insomnia sufferers. Previously serving as co-executive director of the Yoga Service Council, she cultivated financial resilience and strategic partnerships for the nonprofit organization. An avid yogini for over 20 years, Pamela was motivated to begin her teaching journey when she realized that…
Learn more about Pamela Stokes Eggleston, MBA, E-RYT 500, YACEP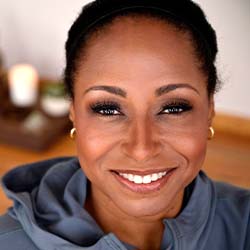 Amina Naru, E-RYT, YACEP
Amina Naru is the founder of Posh Yoga, co-founder of Retreat to Spirit, a Usui reiki master, trauma-sensitive yoga instructor, and chair of the Race and Equity Consortium in Yoga, with a specialty in providing Yoga and mindfulness programs to incarcerated youth and adults. Amina is an active member on the board of directors for the international nonprofit Accessible Yoga Association and serves on the board of directors for Bmore Empowered INC, a nonprofit dedicated to empowering women and girls of color through mindfulness and entrepreneurship in Baltimore City, Maryland. She is the former executive director of the national nonprofit…
Learn more about Amina Naru, E-RYT, YACEP