Yoga2Sleep: Relax and Fall Asleep Naturally – Online
with Pamela Stokes Eggleston, MBA, E-RYT 500, YACEP
April 12 - 26, 2023
Wednesdays: Apr. 12, 19, and 26
In this online workshop, release stress, tension, and overwhelm with Yoga2Sleep, a Yoga therapy workshop designed to support a better quality of sleep. This workshop includes personal assessment, pranayama (breathing exercises), meditation, Restorative Yoga, Yoga Nidra (yogic sleep), and journaling. Yoga2Sleep uses scientific research in combination with ancient, traditional yogic practices to empower you to achieve better sleep for your best life.
Sleep is an integral function of the parasympathetic (rest and digest) nervous system. When we don't get enough sleep, our bodies, brains, and emotions suffer. There is good evidence that cognitive and/or physiological excitement, associated with sustained sympathetic activation, is one of the underlying causes of insomnia.
A large body of evidence-based research supports Yoga therapy protocols that holistically address insomnia and sleeplessness. The multi-layered approach of Yoga therapy uses scientific research in combination with ancient, traditional yogic practices.
This workshop includes:
Distinctive combinations of educational and experiential sessions
Exploration of the koshas and chakras (energetic layers and centers) as they pertain to sleep and insomnia
Self-Inquiry and self-reflective practices
Information on why rest and relaxation are vital
Examination of the gross and subtle aspects of the body, heart, and mind and the interplay with adequate sleep
Tangible yogic tools to achieve better sleep
Live sessions with Pamela on Wednesdays at 6:30–8:30 pm ET.
You will have access to the video recordings for 8 weeks after the program ends, until June 21, 2023.
In addition, you will have access to recorded Integral Yoga Hatha classes and access to an online social community to connect and communicate with other participants about this course.
Continuing Education (CE) Opportunities
Testimonials
Pamela is a delightful, knowledgeable presenter. She makes you feel comfortable and heard from the first moment of class. — Trisha Murphy

Pamela is a patient. kind, and experienced presenter who delivers the online workshop with warmth and energy for all! I recommend if you are even new to Yoga to experience her guidance and support—she speaks to diversity and inclusivity in her approach to the subject of sleeping better. — Jackie Kleefield

Pamela is a very intuitive, compassionate teacher who understands what it is like for those of us who suffer from insomnia. I learned a lot during the class and I have slept better since. She approached it in a very holistic way; outlining all the factors that contribute to insomnia and this has helped me to devise a plan for increasing my sleep. — Joy Jones
Presenter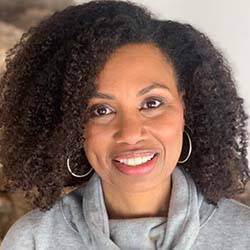 Pamela Stokes Eggleston, MBA, E-RYT 500, YACEP
Pamela is the founder and director of Yoga2Sleep, co-founder of Retreat to Spirit, and adjunct professor/Yoga Therapy clinic supervisor at Maryland University of Integrative Health. She is a certified yoga therapist and meditation teacher with specialized certifications in plant-based nutrition, cognitive behavioral therapy for insomnia (CBT-I), and trauma-informed Yoga to work with service members, veterans, their caregivers, and insomnia sufferers. Previously serving as co-executive director of the Yoga Service Council, she cultivated financial resilience and strategic partnerships for the nonprofit organization. An avid yogini for over 20 years, Pamela was motivated to begin her teaching journey when she realized that…
Learn more about Pamela Stokes Eggleston, MBA, E-RYT 500, YACEP