Seeing Challenges as Guideposts Towards Peace – Online
with Marc Mukunda Morozumi, E-RYT 500, CMT
August 9 - 23, 2022
Tuesdays: Aug. 9, 16, and 23
Our current times give us plenty of reason to feel frustrated, disrupted, and even helpless. How do we find a way out of these feelings? Can we imagine that life will ever become better?
Sometimes, even the idea that we need to transform something "bad" into something "good" can feel triggering. What if we could see the moment in time for what it is and then gain clarity in order to make our best move forward? What if we had an opportunity to practice awareness, acceptance, and action?
We can't change the past, but we can transform our relationship with life events and see all experiences as guideposts. Shifting our perspective can help us to gain deeper wisdom and uncover purpose. Marc Mukunda will share his motivation for daily Yoga practice and living life on life's terms. Whether struggling with personal or worldly stressors, join to discuss how challenging situations can become more manageable and serve as the directional arrows to a more intentional life.
In this online workshop series we will have time to write, meditate, discuss, and share as we investigate each of these yogic teachings:
Tue. Aug. 9: Oneness of the Coin with Two Sides: Conscious Awareness and Duality
Tue. Aug. 16: Pressing Pause then Play: Non-attachment, Practice and Purpose
Tue. Aug. 23: Help is on the Way and Within: Peace as Stillness and Movement
Sun. Sept. 4: Q&A
Live sessions on Tuesdays at 7–8:30 pm ET and a bonus Sunday Q&A* at 6–7 pm ET on September 4.
*Sunday Q&A session is open to everyone. Program participants will be first in the queue.
You will have access to the video recordings for 8 weeks after the program ends, until October 18.
In addition, you will have access to the recorded Integral Yoga Hatha classes and access to an online social community to connect and communicate with other participants about this course.
Continuing Education (CE) Opportunities
Yoga Alliance (YA): Approximately 4.5 contact hours. Approximately 5.5 total hours including attendance of Sunday Q&A.
You can input your contact hours using your YA login information.
Integral Yoga Teachers Association (IYTA) can provide you a CE certificate with your program's total contact hours for a $10 fee (free for IYTA members.) For more information, email

[email protected]

.
Testimonials
I always look forward to Mukunda's classes. They feel supportive. Instructions of the class are very clear. His enthusiasm is infectious. I also end up with something I can take away. — Ryan

Mukunda is someone who you can tell really has thought through all of his theories and has his own spin on it but still is completely grounded within the traditional teachings. It's just a really more digestible way to learn something that is so deep and ancient. — Sara

He always came up with colorful examples from his own life (and) from the scriptures. He has a talent for bringing them to life and relating them to things we go through. He really has a talent for dipping into and explaining many aspects of Yoga. — R.
Presenter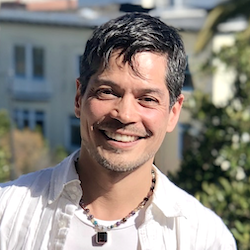 Marc Mukunda Morozumi, E-RYT 500, CMT
Marc Mukunda Morozumi, E-RYT 500, CMT, Integral Yoga Lead Teacher Trainer, began practicing Ashtanga Yoga in 2001 while a full-time modern dancer with Joe Goode Performance Group in SF, CA. Due to injury, Mukunda retired from his dance career in 2004 and entered the events industry for a 12-year career. In 2007, he was able to make a 2-month trip to India as a personal journey. After enjoying an immersion at the Sivananda Ashram in Kerala and visits to Auroville and others, he chose to deepen his practice with a teacher training in Yogaville in 2009 with Swami Divyananda and…
Learn more about Marc Mukunda Morozumi, E-RYT 500, CMT