Introduction to Yin Yoga
with Biff Mithoefer, E-RYT 500, Julia Kupke and Eric Archer
November 11 - 13, 2022
Yin Yoga uses long-held postures to support you in accessing the deeper, more Yin (still) parts of yourself. Explore how this ancient yogic practice can promote Qi (flow of energy) through the meridians (energy channels), bringing health to your body and balance to your busy, Yang (active)-life style.
Guided by Biff Mithoefer, author of The Yin Yoga Kit, you will practice Yin Yoga to bring health to your body and balance to your life.
Incorporate Yin Yoga into any Yoga practice by:
Applying Taoist philosophy
Following the movement of prana (life energy) in the body and explore how to affect it with Yin Yoga
Gaining a basic understanding of the Chinese meridian system and its relationship to yogic chakra theory
Exploring basic anatomical differences that ultimately affect Yoga postures
Balancing the Yin practices with more Yang-style practices, based on Hatha Yoga and the Taoist tradition
If you'd like to dive deeper into your study of Yin Yoga, join Biff from November 13–19, 2022, Yin Yoga Training Module 2.
Receive 10% off both programs' tuition when registering for Introduction to Yin Yoga (Nov. 11–13, 2022) and Yin Yoga Training Module 2 (Nov. 13–19, 2022).
The discount of $115 will be reflected upon Module 2 registration.
Continuing Education (CE) Opportunities
Testimonials
Biff has an authentic understanding of the essence of Yoga, and holds true to the meditative dimension of the practice. He guides you in utilizing Yin Yoga in a healing, restful, and deepening way. The program is a great joy and recommended for anyone wanting to spend some time working on their spiritual journey. — Ishpreet Singh

I highly recommend the Yin workshop. Biff teaches with heart using poetry and archetypes to add to his knowledge of the physical body and Yin posture. — Carol Siegel

This workshop was a grounding experience by an outstanding teacher and his assistants. The uplifting live music and poetry made this a memorable and moving time that I will take forward with me into my life and practice. — Diana Simonton
Presenters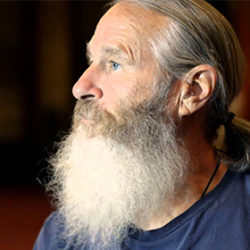 Biff Mithoefer, E-RYT 500
Biff teaches Yin Yoga throughout the US and internationally. He is the author of The Yin Yoga Kit, coauthor of The Therapeutic Yoga Kit, and a founder-director of the Jamste Sponsorship Program for the support of Tibetan refugee children. He is an E-RYT 500 Yoga Alliance registered teacher and has trained and taught extensively with Don and Amba Stapleton, and has studied Yin Yoga and anatomy with Paul Grilley. Biff has studied shamanism with teachers of the Shapibo tradition of Eastern Peru and is a student of cross-cultural shamanism, as taught by Angeles Arrien. See more at biffmithoeferyoga.com
Learn more about Biff Mithoefer, E-RYT 500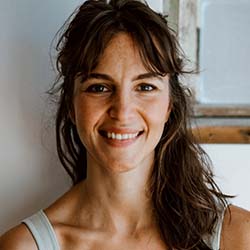 Julia Kupke
Julia works internationally leading group trainings, workshops, and retreats as well as individual sessions on the topics of mindfulness, Strala, Yin Yoga, inner work, and personal development. She offers these programs with the goal of giving people opportunities to get to know themselves better. She likes to design spaces and journeys in which people connect with themselves and find individual answers to what is important to them in their lives. Julia founded the TreeHouse Bavaria near Munich in Germany, which serves as her homebase and holds space for her events and various mindful gatherings. Julia interweaves her own personal change…
Learn more about Julia Kupke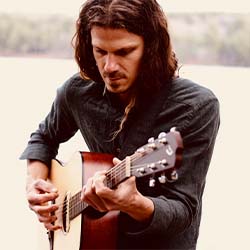 Eric Archer
Eric is a multi-instrumentalist, visual artist, and poet drawing inspiration from nature and its bounty. He has performed throughout the United States and Europe and is happy to call the Hudson Valley of New York his home. Eric collaborates regularly with Prema Mayi and Radharani during their workshops and frequently accompanies Biff Mithoefer on his Yoga Teacher Trainings. Contributing music to these deeply meditative and educational settings, Eric guides listeners through a collective experience of insights, heartbeats, and breath. See more at ericarcherarts.com
Learn more about Eric Archer