Ayurveda and Cooking: Recipes for Everyday Life
with Letícia Padmasri, M.A., E-RYT 500, C-IAYT, YACEP
September 22 - 25, 2022
Ayurveda is a preventative and holistic approach to health that will restore the mind and body to a balanced state. Living Ayurveda in everyday life is about cultivating balance and connection to the natural cycles, and there are several ways to nurture this through cooking.
One of Ayurveda's core tools for healing and healthy living is food. Ayurvedic food is prepared and cooked with consideration of the Ayurvedic principles. In this program, you will learn and apply Ayurvedic principles to cooking. Discover the benefits of Ayurvedic cooking in this experiential workshop and be inspired to integrate ancient Ayurvedic wisdom into your everyday life.
In this workshop you will learn:
Ayurvedic cooking principles
Best foods and spices for your pantry by season
How to cook with spices
How to set up your kitchen as an Ayurvedic kitchen
Helpful tips for food preparation
Delicious and nutritious recipes
You also will have the opportunity to practice daily Hatha Yoga and meditation according to principles of Ayurveda.
"When diet is wrong, medicine is of no use. When diet is correct, medicine is of no need." — Ayurvedic proverb
Please Note: Although we will be cooking and tasting Ayurvedic food, all meals will be served in the main dining hall.
Course Information
Prerequisites
Basic understanding of the gunas and doshas.
Recommended Reading: What Binds Us and What is Dosha?
Continuing Education (CE) Opportunities
Testimonials
What a full and wonderful experience. Padmasri is a warm, funny, knowledgeable, and enthusiastic teacher. Her ability to combine ayurvedic and Integral Yoga teachings are unmatched. — Meghan King

Padmasri is very knowledgeable in her field. She inspired me to further my studies in Ayurveda. — Devi Rivera

Padmasri is delightful. She lives what she teaches. Her heart is full and she's very knowledgeable. Her light and love is inspiring. — Mollie Robertson
Presenter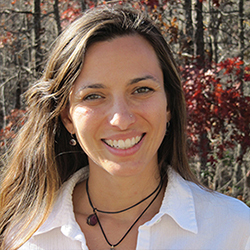 Letícia Padmasri, M.A., E-RYT 500, C-IAYT, YACEP
Letícia Padmasri is an Ayurvedic Lifestyle Consultant, a certified Advanced Integral Yoga® Hatha teacher, and a certified Raja Yoga teacher. She holds a bachelor's degree in exercise science, a master's degree in education, and has dedicated many years towards the study of exercise physiology. She combines her love for the sciences of Yoga and Ayurveda with her interest in the body's structure and function, helping students of all levels adapt their practices to achieve optimal health and total well-being. In addition to being one of Yogaville's primary teacher trainers, she also offers workshops and seminars in the US and Brazil.…
Learn more about Letícia Padmasri, M.A., E-RYT 500, C-IAYT, YACEP