Yoga for Strong Bones Part 2 – Online
with Satya Greenstone, E-RYT 500, C-IAYT
August 20 - 21, 2022
Discover how Yoga asana (posture) can help to build and maintain strong bones.
A 10-year study by Dr. Loren Fishman demonstrated an increase in bone mineral density and improved bone quality with the regular practice of 12 Yoga poses. Yoga asana also improves your balance, posture, strength, range of motion, and coordination, greatly reducing the risk of fracture.
Yoga for Strong Bones Part 2 is a 2-day online workshop focusing on incorporating variety and challenge into your Yoga practice to help build and maintain strong bones. This series is open to anyone who has completed Yoga for Strong Healthy Bones Part 1 or its equivalent. The Part 2 workshop will include additional poses for building strong, healthy bones. These poses will add variety and challenge to your daily practice. Full instruction will be offered on how to select and sequence poses in your personal daily practice. Guidelines for maintaining a balanced, safe practice that meets your individual needs and goals will be given. The group support and practice will refresh, invigorate, and inspire your continued practice of Yoga for strong bones.
Continued Support After the Program
Practice Videos will be available for 8 weeks for continued support after the program.
Click here to register for Yoga for Strong Bones Part 1 – Self-Paced. Receive a 15% ($42) off tuition when registering for both Part 1 – Self-Paced and Part 2. You will receive the discount code in the registration confirmation for Part 1 – Self-Paced and the discount can then be applied to Part 2 registration.
Part 2 Live sessions on Saturday at 9 am–12 pm and 2–4 pm, and Sunday at 9–11 am ET. 
You will have access to the video recordings for 8 weeks after the program ends, until October 16.
In addition, you will have access to recorded Integral Yoga Hatha classes, meditations, and inspiring talks with Swami Satchidananda. You will also have access to an online social community to connect and communicate with other participants about this course.
Prerequisites
Completion of Yoga for Strong, Healthy Bones Part 1 – Self-Paced, or Dr. Loren Fishman's Yoga for Bone Health Training – Self-Paced, or their equivalent.
Continuing Education (CE) Opportunities
Testimonials
If you have been diagnosed with osteopenia, definitely take this course. Each day I felt myself feeling stronger. The program made me want to get back into a routine of daily practice. The Ashram does a magnificent job in providing these online courses. — Kristin Jo Freed

[I] loved Yoga for Strong, Healthy Bones Part 2! Sayta's knowledge and guidance is invaluable. She provides so much information on how to practice safely at any level while giving maximum benefit to the body/bones. Great class! — Lisa Powers

Satya provides clear and concise instruction to support those practicing with Osteoporosis. An essential class for yoga teachers and those trying to adapt their own practice to support their body. — Jessica Lonsberry

Yoga for Strong Bones is truly one of the best classes I've taken in a long time. Satya is not only knowledgeable but a clear, concise speaker; humorous and humble. She demonstrated poses at all levels of accessibility. I highly recommend her and this class. — Clarissa Riely

A clear, concise course for incorporating Yoga into managing and reducing your osteoporosis risks. — Vicki Langdon
Presenter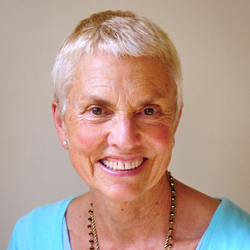 Satya Greenstone, E-RYT 500, C-IAYT
Satya Greenstone has been a student of Sri Swami Satchidananda since 1971. She has shared the teachings of Integral Yoga® in many diverse settings with students of all ages and backgrounds and combines a natural, practical, down-to-earth approach to Yoga with a gentle humor. Since 1999 she has been a primary teacher for the 200-hour and the Intermediate Integral Yoga Teacher Training programs. While serving as teacher training coordinator, she helped to develop and teach the first Gentle Yoga Teacher Training program. She has also developed and teaches training programs in Restorative Yoga, Adaptive Yoga, and Yoga and Meditation for…
Learn more about Satya Greenstone, E-RYT 500, C-IAYT