Psychology and Mental Health — Online
with Karla Helbert, LPC, E-RYT 200, YACEP, C-IAYT
March 7 - April 16, 2022
Both psychology and Yoga can aid in developing deeper personal insight, changing patterns of behavior and habits, and providing tools to support others in these endeavors.
This course examines psychology and conceptions of mental and emotional health through the lens of the time-tested wisdom and practices of Yoga. During the course, students will explore the profound intersections of psychology and Yoga. The skill and understanding gained in this course will support Yoga therapists and Yoga teachers to guide students and clients in their pursuit of health and wellness and deepen their understanding of themselves and others.
Through empirical and research-based study, alongside experiential and expressive components, students will integrate principles and practices of both psychology and Yoga while gaining basic knowledge of psychology, mental and emotional health, and the integration of Yoga.
To support the comprehensive module content, coursework includes reflective journaling and writing, personal daily practice, expressive and creative exercises, case conceptualization and planning, as well as readings of assigned sections of the course manual, recommended reading of other sources, and presentations of learning to the class.
Live sessions on Monday and Tuesday evenings from 5–7:30 pm and Saturday all day, from 11 am–1 pm and 3–6 pm ET.
Attendance at live sessions is required for certification. The live sessions will be recorded and the recordings are usually posted within one day for program participants to review. Recordings will be available for review for 8 weeks after the program ends, until June 11. Students will be asked to keep their cameras on during the live online sessions.
Training Information
Prerequisites
Anyone can apply. Your application will be reviewed before acceptance can be confirmed.
This is a Phase 3 Core Module for the Integral Yoga Therapy (IYTh) Program. IYTh students prerequisites: completion of Phases 1 and 2 Core Modules and associated TCAs is required. Current IYTh students must enroll through the IYTh platform. Interested in joining the Integral Yoga Therapy program: apply here.
Continuing Education (CE) Opportunities
Testimonials
Karla is a delightful, compassionate, caring instructor and I look forward to recommending her session to others. — Ebony Pierce

Karla's program was well-paced and provided a full experience to integrate what I needed, gently, and provided me with tools I can continue to use to learn and grow. Karla held a safe space and exemplified professionalism in their presentation by honoring where all of us were in our individual processes. I learned tools that I will use in the future to continue this journey and continue to heal and grow. — Joni W.
Presenter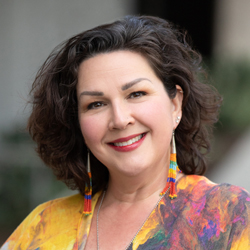 Karla Helbert, LPC, E-RYT 200, YACEP, C-IAYT
Karla is a licensed professional counselor (LPC), Compassionate Bereavement Care® provider, Yoga therapist, and certified Integral Yoga teacher. Her life was irrevocably changed when her son died of a brain tumor in 2006. Karla's award-winning book, Yoga for Grief and Loss, is endorsed by Integral Yoga® leaders and teachers as well as other experts in the fields of both Yoga and loss. The book examines how the paths of Yoga can support us in trauma and grief. She also shares the teachings and philosophies of Yoga's ancient wisdom in her book The Chakras in Grief & Trauma. Relying on ritual, meditation,…
Learn more about Karla Helbert, LPC, E-RYT 200, YACEP, C-IAYT