Hidden Gems of the Yoga Sutras – Online
with Rev. Jaganath Carrera, E-RYT 500
January 12 - 30, 2022
2 Wednesdays + Sun. Q&A: January 12, 19, and 30
The teachings contained in the Yoga Sutras are gems of living wisdom—vibrant guides that can accompany you to higher levels of spiritual awareness.
Join Rev. Jaganath Carrera for this online workshop to discover hidden insight in even the most well-known Sutras and learn how to apply the Sutras' small, simple steps that lead to self-realization. You can learn to transform your mindset from a "get-through-the-day" mentality to a joyous journey of self-exploration.
This workshop is ideal for both beginners and those who are already familiar with Patanjali's Yoga Sutras. Since the interest in Raja Yoga (another name for these teachings) is steadily growing, this program will also be a perfect opportunity for Yoga teachers to deepen their understanding and experience of the teachings.
This program focuses on the practical application of these classic teachings and will use Rev. Jaganath's translation and commentary found in Inside the Yoga Sutras and Inside Patanjali's Words. There will be a balance of discussion and time for questions.
Live sessions with Rev. Jaganath on Wednesdays at 7–8:30 pm and Q&A on Sunday*, January 30, at 2–3 pm ET.
* Sunday Q&A is open to everyone. Program participants will be first in the queue.
You will have access to the video recordings for 8 weeks after the program ends, until March 27.
In addition, you will have access to the Ashram's Online Hatha Yoga classes at 5 pm ET and access to an online social community to connect and communicate with other participants about this course.
Continuing Education (CE) Opportunities
Testimonials
Rev. Jaganath's breadth and depth of knowledge of the Yoga Sutras is unparalleled. I was delighted to see so many senior disciples of Sri Swami Satchidananda and also teachers of the Sutras in attendance for this workshop. I knew I would be in for a treat and I was not disappointed. Rev. Jaganath's knowledge combined with his ability to communicate the Sutras in a meaningful and lighthearted yet penetrating way is so inspiring! I want to keep studying with him! Thank you for offering this program. Please offer more with Reverend Jaganath! — Margaret Padma Tumelty

Jaganath's depth of understanding and embodiment of the teachings is extraordinary. His humor, stories, and subtlety are clearly born of deep experience and spiritual maturity. — Reverend Paraman Barsel, IYM

Rev. Jaganath never quits his exploration of Patanjali's Yoga Sutras. He always comes up with fresh new insights which he presents in an engaging, inspiring manner. — Swami Jyotirmayananda

The opportunity to hear such a learned scholar and a devoted yogi bring his understanding to Patanjali's Yoga Sutras is not to be missed. — Cheryl Case
Presenter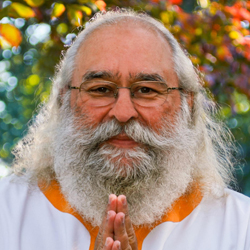 Rev. Jaganath Carrera, E-RYT 500
Sri Guruji Reverend Jaganath is the founder and spiritual head of Yoga Life Society and its first Yoga Life Center in Woodland Park, NJ. He is a direct disciple of world-renowned Yoga master and leader in the ecumenical movement, Sri Swami Satchidananda, the founder and spiritual guide for the Integral Yoga Institutes and Satchidananda Ashrams worldwide. Rev. Jaganath has taught at universities, prisons, Yoga centers, and interfaith programs both here and abroad. He was a principal instructor of both Hatha and Raja Yoga for the Integral Yoga teacher training certification programs for over twenty years and co-wrote the training manual…
Learn more about Rev. Jaganath Carrera, E-RYT 500