Between the Mat and the Meeting: Ayurveda for our 'Addictiveness' – Online
with Durga Leela, E-RYT 500
Thursdays: 7–9 pm ET
Embody health in recovery from all addictive disorders, (substances, food/sugar, and behaviors) through Ayurveda, framed in the most accessible, relatable, and practical way. Address the needs and vulnerabilities that underlie these habits with a pioneering look at our stress-response tendencies. We will look at our 'acting out' tendencies and how physical practices and daily routines can widen the window of tolerance. We come to deeper self-understanding and self-regulation for resilience one day at a time.
Yoga of Recovery works with everyone whose lives have been affected by addiction, in themselves or loved ones—those who have sex addiction, eating disorders, codependents with no substance abuse, and others where substance abuse is present but it is not the primary presenting issue. The program is also open to anyone who wants to learn lifestyle and stress management skills.
Health and recovery from addiction and disease involve fully living in the wholeness that you are. By recognizing your innate strengths you can learn to revitalize your body's systems rather than to depend on addictive, unhealthy behaviors. Build a strong foundation for living well, and learn about stress, digestion, sleep hygiene, and detoxification. Practice deep self-care and emotional regulation through simple Ayurvedic daily routines that you can practice at home.
The program is an integration of the philosophy and psychology of Yoga and Ayurveda, offering many physical practices to allow us to embody our recovery pathway.
This 12-week online program consists of:
One live Zoom class once per week for 2 hours. Here we review, discuss, and share about the week's class topic with a buddy check-in, group break-out session, and Q&A with Durga. These sessions will be slightly different each week. Sessions are recorded in case students are not able to attend the live session.
Pre-recorded videos you can watch before we meet to review and discuss the week's topic in our live class (approximately 11 hours over the 12 weeks, released each week)
Two live group discussion meetings per week (optional) – one will be a book discussion (non-12 step), Tuesdays 2-3pm PST, starts 1/26; the other is an open, all-fellowship 12 step meeting – Saturdays 8-9am PST, start 1/23. These are not recorded.
Live Sessions with Durga on Thursdays at 4–6 pm PST / 7–9 pm EST.
When you sign up through Yogaville you'll also receive a 6-month subscription to Integral Yoga TV (IYTV). A promocode will be sent out after the Yoga of Heart Program begins.
OPTIONAL:
Be sure to enter coupon code: discount in Coupon box and receive a 20% discount on the course.
OPTIONAL:
Please email if a Scholarship rate is what is needed for you to join us. [email protected]
Upon completion of this course you can submit to receive continuing education credits with 3 major Yoga certification organizations



Testimonials
Yoga of Recovery: Between the Mat and the Meeting not only helped to deepen my understanding of my addictive/destructive behaviors, but gave me specific practices to integrate into my daily life. I'd highly recommend this program to anyone! — Surya Huebner

I highly recommend the Yoga of Recovery program to anybody who is faced with addiction in their lives, as well as those who are just interested in the topic. The knowledge contained in the YoR program can actually really benefit anyone in navigating daily life. — S.C.

I highly recommend Yoga of Recovery for anyone in the healing fields, Yoga teachers, or those in recovery, or with loved ones in recovery. I gained a broad knowledge of Ayurveda and how Yoga asana and its companions, pranayama and meditation, can assist those in recovery. In YoR we get to the root of the problem and address the unique constitution of the person and how to work with imbalances using this ancient medicine. I love how the mind, body, and spirit are seen as integral to the overall health and wellness of the system. REVOLUTIONARY! — Connie Bowman

I am a 61 year old Yoga therapist. I wanted to learn more about the therapeutic application of healing through all the various addictions. I thought this program was an excellent wealth of information and taught within a practical system that can be applied in various settings. Thank you Durga for sharing so much information in such a short time! — Maheshwari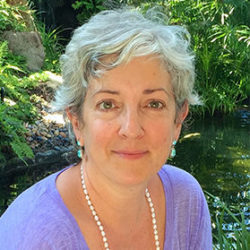 Durga Leela is a practical, down-to-earth, and to-the-point speaker who has worked on her own path of recovery. Trained in Ayurveda in both the U.S. and India, she is the director of the Ayurveda Programs at the Sivananda Yoga Farm in Grass Valey, CA, and a professional member and conference speaker for the National Ayurvedic Medical Association (NAMA) and International Association of Yoga Therapists (IAYT). Durga has been interviewed for all Recovery 2.0 online conferences.
See more at YogaOfRecovery.com