Integral Health and Healing
with Amrita Sandra McLanahan, M.D. and Margabandhu Martarano, E-RYT 500, B.A.
April 5 - 7, 2019
Integrate Yoga, herbs, and Western medicine into your life and the lives of others for conscious healing. In this Integral Health and Healing workshop, healthcare professionals, Yoga teachers, and those with various health conditions are invited to learn how to use the full range of Yoga practices to heal the body and mind.
Explore the power of a Yoga framework to create and maintain healthy choices, experience enduring love within, and achieve an overall sense of peace and well-being.
Learn how to:
Apply the latest research to understand the root causes of illnesses
Utilize herbs to nourish the body and support nutrition and elimination
Apply mind-body-spirit approaches for optimum health
Use simple yogic formulas to improve eyesight, immune system function, digestion, hair growth, and more
Determine what is missing in our diet and gain a thorough understanding of vitamins, minerals, and environmental toxins
Practice shat kriyas (purification techniques) to clear the body of toxins and steady the mind for deeper meditation
Calm and revitalize the system with pranayama (breathing exercises) and deep relaxation
Additionally, explore yogic techniques for preventing and responding to arthritis, cancer, heart disease, and diabetes, and other conditions.
This is a uniquely supportive, enjoyable, and life-changing medical workshop led by old friends. Margabandhu and Dr. Amrita worked together in the former Connecticut Ashram for several years in the 1970s helping people heal themselves. Now their private practices are merging once again to bring their experience, wisdom, and love of Yoga to a new set of eager students, teachers, and health practitioners.
Continuing Education (CE) Opportunities
Testimonials
Dr. Amrita was fantastic! Very upbeat and entertaining. The vast knowledge just articulately flowed from her lips—so much info in such a short time, all understandable due to her humor and energy. Thank you! — Claudia Hedeen

Dr. Amrita McLanahan [has a] great sense of humor and the capacity to marry science to theory. — Crystal Fenwick

Dr. Amrita was so helpful in bringing to light the many myths we hear daily from the food and medical industries in particular. — Program Participant
Presenters
Amrita Sandra McLanahan, M.D.
Dr. McLanahan is a graduate with high honors of Swarthmore College, and she has an M.D. degree from Wayne University and a family practice specialty from the University of Massachusetts. For twenty years, she served as director of stress management for Dr. Dean Ornish's research, using Yoga and lifestyle changes to reverse heart disease and cancer. She now practices integrative medicine at Yogaville. Dr. McLanahan has made multiple study trips to India and Asia, where she visited centers that use Yoga and other natural means to prevent and treat disease. She is the co-author of the book, Surgery and Its Alternatives…
Learn more about Amrita Sandra McLanahan, M.D.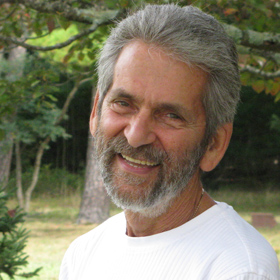 Margabandhu Martarano, E-RYT 500, B.A.
Margabandhu has served as director of the New Jersey Integral Yoga® Institute for 50 years. Margabandhu is a senior certified Integral Yoga instructor, proficient in all aspects of Yoga. He has a B.A. in education, is a master herbalist, and is certified in therapeutic acupressure massage and reflexology. Margabandhu is also the director of the Well Being Center in Verona, NJ, a holistic center specializing in all aspects of health and healing. He is the co-creator of the Yoga for Autism teacher training.
Learn more about Margabandhu Martarano, E-RYT 500, B.A.