Awakening the Breath of Life: Integral Yoga Pranayama
with Raama Das, E-RYT 500, C-IAYT, YACEP
March 8 - 10, 2019
Pranayama, the Yoga science of breath control, is one of the most powerful elements of Yoga. Although subtle, pranayama practices effectively energize and relax the body while also calming and focusing the mind.
Discover proven methods that heal the entire system, improve your resistance to infection and illness, and awaken your spiritual potential.
Make pranayama an essential part of your integrated practice:
Gain an understanding of the basic theory of yogic breathing and the subtle energy system
Learn guidelines for daily practice, nasal cleansing, and meditation
Receive step-by-step instructions for both Level 1 and Level 2 practices
Discover how to manage stress in daily life
Experience pranayama as preparation for meditation
Receive guidance in pranic healing visualization
Suitable for complete beginners and more advanced students, this weekend workshop could change your life!
Continuing Education (CE) Opportunities
Testimonials
Raama Das is an amazing teacher. He is knowledgeable, caring, genuine, and supportive. — Ambika Cristelli

I am delighted to share the benefit and joy I have received from being a part of Raama's workshops. He is a delightful presenter with a great sense of humor. He makes the workshops fun and the materials easy to understand with down to earth analogies. I am impressed by his knowledge of the classical yogic teachings and inspired by how he's devoted and dedicated to living them. His dedication to dear guruji Satchidananda's teachings is quite heartfelt. — Deborah Bennett
Presenter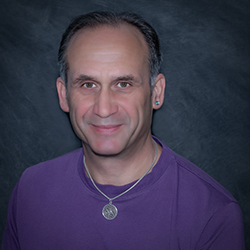 Raama Das, E-RYT 500, C-IAYT, YACEP
Raama Das is a former director of the Integral Yoga® Teachers Association and has been instructing Integral Yoga since 2009. He is a lead trainer for the Integral Yoga 200-hour TT at Yogaville and co-presents both the 200 and 500-hour Yoga Alliance programs at Heal Me Institute in Fredericksburg. Raama recently received certification as a Yoga Therapist through the International Association of Yoga Therapists (IAYT), having studied Yoga programs for specific health conditions, including, anxiety, depression, cancer, heart disease, arthritis, and addiction. He is also certified as a teacher of Intermediate Hatha, Raja Yoga, Meditation, Stress Management, Yin Yoga, and Yoga for…
Learn more about Raama Das, E-RYT 500, C-IAYT, YACEP