The Paths of Yoga: Aligning Hand, Heart, and Head
with Swami Asokananda, E-RYT 500
March 1 - 3, 2019
Truth is one, but the paths of Yoga are many. The four main paths of Yoga correspond to the hand (action), the heart (love), the head (intelligence), and the unification of all three. When aligned, the hand, heart, and head form a wonderful ladder to help you climb to a more fulfilling life rooted in Spirit.
Discover the four main paths of Yoga:
Karma Yoga (the hand)—using the actions of your daily life to clean your past karma rather than accumulate new karma
Bhakti Yoga (the heart)—cultivating a living relationship with the Divine to transcend the limitations of the ego
Jnana Yoga (the head)—applying discriminating intelligence to penetrate through the illusion and wake up to the Self
Raja Yoga (the unification of yogic paths)—integrating all approaches so that you can develop into a well-rounded human being and a balanced, mature soul
Since an ounce of practice is worth a ton of theory, Swami Asokananda gives thorough focus to the practical ways you can absorb each of these approaches and develop into a true Integral yogi.
Continuing Education (CE) Opportunities
Testimonials
Swami Asokananda is such a joy to learn from; the energy and lessons from Gurudev spring from his every word! His guidance has been my jumping off point to deepen my yogic journey. — Jeremiah S.

I came to refresh on the basics but walked away with very deep insights that are timeless and will be treasured. — Rose Mary Shaw
Swami Asokananda had such an easy manner, good stories, and good directions to follow about very complicated material, especially since I'd never read or heard most of it. I loved Swami Asokananda… Plus, it was fun! — Melinda R.

I really enjoyed the workshop and the experiential aspect that Swami Asokananda incorporated. He is kind, accessible, and very attuned to the group's needs. — Past Participant
Presenter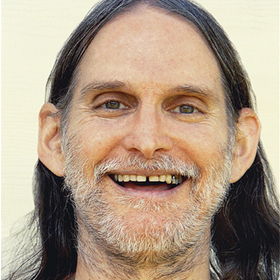 Swami Asokananda, E-RYT 500
Swami Asokananda, a monk since 1975, is one of Integral Yoga's® (IY) foremost teachers—known for his warmth, intelligence, and good humor. His teaching comes out of his own practice and experience while absorbing the wisdom of his Guru, Sri Swami Satchidananda. While he enjoys sharing the practical wisdom of yogic philosophy (especially the great Indian scripture, the Bhagavad Gita), he also loves his practice of Hatha Yoga. He is one of Yogaville's primary instructors for Intermediate and Advanced Hatha Yoga Teacher Trainings. He presently serves as president of the IY Institute in New York City. Before this position, he served…
Learn more about Swami Asokananda, E-RYT 500