Ashtanga Yoga: Sthira Bhaga–Strength and Grace
with Tim Feldmann
November 9 - 11, 2018
Are you curious about Ashtanga Yoga but concerned that it might be too athletic? Are you looking for guidance on how to move your body into the next stage of flexibility, grace, and strength? Does your asana practice need a tune-up? Do you yearn for some enlightenment on how Yoga postures make our lives happier and how Yoga works? This workshop is for you!
The Ashtanga Yoga method as taught by Sri K.Pattabhi Jois follows classic yogic sastra and takes its name from the jewel of Patanjali's teachings. While often considered a more vigorous type of Yoga practice, Jois's system is easily adapted to all levels. Tim's seasoned and expert teaching style allows beginner and advanced students alike to experience the rich realms of body, mind, and spirit through Ashtanga Yoga.
During this workshop, you'll start your day with an invigorating asana class. Then, you'll have the opportunity to explore Yoga's foundation and how it applies to postures, health, and life during the afternoon sessions. All levels are welcome.
Presenter Interview
Testimonials
Tim is a wonderful instructor and teacher of the Ashtanga method.  He is funny, knowledgeable, and patient.  This is a great program for both experienced and beginning Ashtangis. — Gregory Sovens

[Tim is a] tangible teacher with compassionate heart.  [He is] well-informed about philosophy and [has a] very wonderful sense of humor.  I highly recommend [the program]! — Jenny Brown

The class was both mentally and physically invigorating. Tim was an inspiring teacher. — Caroline M.

Tim, with in-depth explanations that seamlessly move from the physical to the depths of the deeper meaning of Patanjali's Sutras and the universe within, brings such grace and humor, lightheartedness and mastery! I so appreciate that [his] non-judgmental approach inspired us to see that where we are is fine, and where we can go is to greater and greater heights and depths. Thank you! — Shanti Wagner
Presenter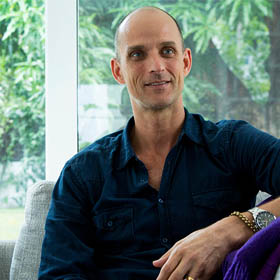 Tim Feldmann
Tim Feldmann is the director of Miami Life Center, the Yoga shala (Yoga studio) he founded with his wife Kino MacGregor and Matt Tashjian. He was set on the Yoga path by his first teacher, Lino Miele, and is authorized to teach directly by the founder of the Ashtanga Yoga Method, Sri K. Pattabhi Jois, and his grandson, R. Sharath Jois. A practitioner of the Advanced A series, Tim is dedicated to Ashtanga Yoga's traditional method. A near fatal falling accident in 1992 led Tim on the yogic path. His teaching integrates extensive studies of F.M. Alexander Technique and sitting meditation…
Learn more about Tim Feldmann