Ten-Day Silent Retreat: Listening to the Inner, Connected Voice
with Reverend Sam Rudra Swartz, IYM, E-RYT 200, RCYT, YACEP and Integral Yoga Senior Staff
August 10 - 19, 2018
What messages come to us most clearly? Do they arise from the shallow part of our ego? Do these messages originate from our selfish needs, our conditioned minds, or the voices of the people who most influenced us in the past? The mind is a great storyteller, taking in information from a myriad of sources and trying to process each and every message it absorbs.
What if we learned to listen to our hearts? Guidance exists within us—a still, calm, voice which assures us that all is taken care of, all is safe, and informs us about what resonates with our innermost being. A deeper message can be heard from within that instills an intuitive knowing and provides a foundation of strength from which to operate our lives.
Now is the time to listen deeply within you.
Come to Yogaville and:
Immerse yourself in silence for ten days
Practice daily Hatha Yoga, pranayama (breathing practices), guided deep relaxation, and meditation
Realign yourself with your own inner guidance
Gain the clarity and understanding to distinguish your own inner voice from that of others
Experience the natural beauty and stillness of our sacred spaces
Listen to inspirational talks given by some of Integral Yoga's most insightful teachers
Balance your emotions and revisit what you want and where you are going in life
You are invited to join us for this time of self-discovery, during which you will refresh and replenish your body, mind, and soul.
Within every heart is an ocean of peace and joy—that is the soul's true nature. Take time this year to rediscover your own inner pathways to that peace and joy.
If you cannot attend the full ten days, you may attend the first weekend of the retreat.
What to expect
Immerse yourself in silence, while seasoned teachers offer experiential workshops and classes in Yoga philosophy, meditation, deep relaxation, and more.
Private mentoring is available.
You will also have the opportunity to seek support or clarification by asking written questions.
Who can attend
These retreats are open to everyone—from beginners to advanced Yoga retreatants. Those who are new to meditation or to Yoga practices will receive full instruction, while those with experience will have the opportunity to explore more deeply.
Testimonials
I think it was well-planned for a group of participants with varying backgrounds and familiarity with Yogic teachings and Integral Yoga.
I was totally blown away by the depth and breadth of knowledge coupled with presentation skills.
I learned more here than anywhere else and being completely new, I now feel part of a great community of people.
— 2017 Participants
I wanted to reconnect with Yogaville and get more grounded in the teachings. I am going home with a deeper understanding and appreciation of Gurudev's teachings. — Maya, 2016 Participant
Presenters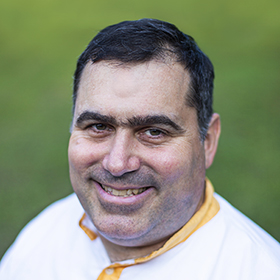 Reverend Sam Rudra Swartz, IYM, E-RYT 200, RCYT, YACEP
Reverend Rudra was introduced to Integral Yoga and the teachings of Sri Swami Satchidananda in 2001. Since that time, he has been active in the Integral Yoga organization, living at Yogaville and the Integral Yoga Institute of New York. He recently completed Accessible Yoga Teacher Training offered through Integral Yoga Institute in San Francisco. Rudra graduated from Boston University's College of Fine Arts and is an active musician. He leads Kidding Around Yoga (KAY) teacher trainings and has served as a Camp Yogaville director for 7 years. Rudra is a graduate of the All Faiths Seminary in New York, where he received ordination…
Learn more about Reverend Sam Rudra Swartz, IYM, E-RYT 200, RCYT, YACEP